A Tale of Two Cities
Washington  DC and Hollywood are two cities suffering from the same condition:  they've not only become completely alienated from the people they're meant to serve, they're bizarrely blind to the fact of that alienation.   Like deranged narcissists in a hall of mirrors, both our lawmakers and our culture-makers blow kisses at their own reflections, see a million kisses coming back their way and think, "Oh, look, they love me—love me!"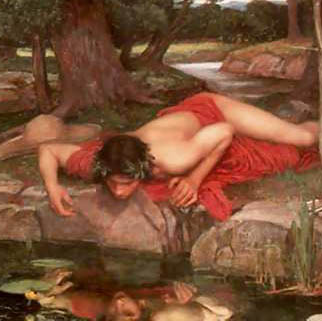 "Hm, let's see:  politics or show biz…"
For glaring proof in Washington, we have the passage of the health care bill.  Recently the Washington Post ran an op-ed by former Carter pollster Pat Caddell and Clinton pollster Douglas E. Schoen expressing their amazement that Obama and the Democrats would go forward with this bill in the face of overwhelming evidence that the public doesn't want it.   Caddell—a moderate Dem who sometimes sports a t-shirt reading, "I'm Grumpy because you're Dopey,"—and Schoen are baffled that the Democrats continue to grow and grow and grow the government despite polls that show Americans feel the federal apparatus is now an immediate threat to their civil rights and is no longer operating with the consent of the governed.
And yet, even after losing a Senate seat in blue-on-blue Massachusetts almost entirely on the health care and big government issues, the Democrats plunged forward, certain that we're going to like the garbage they're forcing us to eat.
To get some sense of the psychology behind this self-destructive self-deception, let's take a look at a similar act in DC's ideological sister city three thousand miles away.  Here, Universal studios  recently released Green Zone, a $100 million anti-Iraq war movie despite the box office failures of over a dozen similarly themed films.  Matt Damon stars as the soldier who discovers–what is provably untrue–that the Bush administration lied about Saddam Hussein's weapons of mass destruction in order to drag us into war.  Operation Shock and Awe was nothing compared to the way this picture bombed.  HBO's World War II series The Pacific also did only modest business, its chances possibly poisoned by Executive Producer Tom Hanks' idiotic remarks that America had "wanted to annihilate [the Japanese] because they were different," and that this made the war in the Pacific similar to today's wars against Islamic terror.
As a result of these two failures, show biz trade magazine Variety ran an almost hilariously purblind article saying that Hollywood was calling a "truce" on making war films because  "with U.S. troops embroiled in combat in Iraq and Afghanistan, American audiences continue to suffer from war fatigue."
Yeah, that must be it.  It couldn't be that we're nauseated by a bunch of show biz yahoos depicting our troops and leaders as evil while they're in the field defending us.  Or wait, maybe it is:  the one film—the single film—that, while taking no political position on these wars, nonetheless treated our military with deep honor, respect and patriotism—HBO's brilliant Taking Chance—was one of the network's signal successes despite the mainstream media's blithering negative reviews.
Here's the thing.  The people want government that acts in keeping with our principles of free markets, self reliance and individual liberty.  The people want culture that depicts the moral order as we know it is, not as sequestered elites dream it should be. But in Hollywood and in Washington, they cannot hear the people because they are making too much noise talking to themselves, confirming themselves, loving themselves.
They say that Washington is Hollywood for ugly people.  But as long as our leaders and artists are displaying such blindness, arrogance and narcissism, they're all ugly.