Movie: Salt
Sux.  Okay, maybe that's a little harsh.  Phillip Noyce is a highly skilled director (he made the excellent little thriller Dead Calm – if you haven't seen it, stop reading this and go watch it now – and those fun Harrison Ford Tom Clancy films) and the action is well filmed.  Also, the set-up's intriguing and keeps you interested for a while.
But it's finally just too absurd.  The plot makes no sense, and every time there's a chance for a good scene or a little emotional development it launches into yet another car chase or explosion.  What dialogue there is is dull.  Every time the wonderful Liev Schreiber opened his mouth, I felt sorry for him.  Even he couldn't make the leaden repartee sing, much as he tried.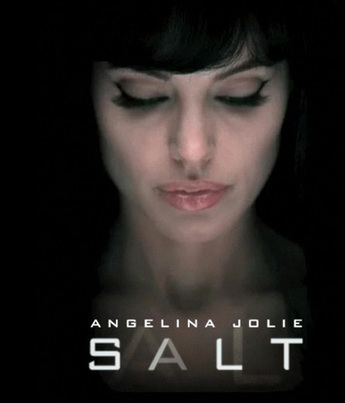 Oh, and plus–I'm sorry, I was willing to suspend disbelief somewhat and pretend that a girl could beat people up like that.  It worked in The Losers with the lovely but frail Zoe Saldana.  But not here.  The once luscious Angelina Jolie looks positively anorexic–so much so that I suspect they used a body double for the one scene at the beginning where she's undressed.  I didn't mind when she was shooting people–though the recoil would've blown her into the next room–but every time she hit some guy, I could practically feel her hand break.  How much cooler and more exciting it would be, even in a big action film, to see a woman who has to use her wits a little bit to overcome the physical disadvantages of being smaller and weaker than her (after all, equally well-trained) male opponents.
Maybe that's asking too much of a movie like this, but Salt's gender was just one more absurdity in 90 straight minutes of pure nonsense.